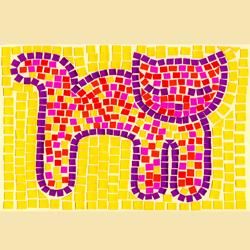 This factsheet will take you back to the days of Gallo-Roman Antiquity and unveil all the secrets of the Saint Romain en Gal mosaic.
The children will be able to familiarise themselves with the mosaic technique. The work, its significance and the agriculture of the time will no longer be a secret to the children! Let the children put themselves in the shoes of Roman artists!
Historic period: Gallo-Roman Antiquity
The Saint Romain en Gal mosaic. This beautiful mosaic was discovered in 1891 on the banks of the Rhône in St Romain-en-Gal, near Vienne. It was exhibited at the Louvre until 1935 and then at the museum in St Germain-en-Laye. Originally it measured 8.86m x 4.48m and was made up of 40 tableaux, of which just 27 now remain and which have been restored.