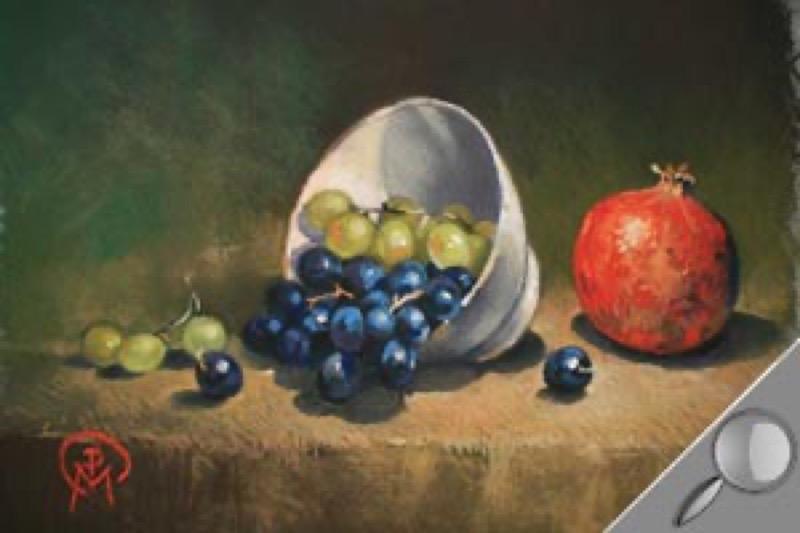 Execution Time: 4:15 hours
Drawing: ½ hour   Adding values: ½ hour   Choosing colors: ¼ hour   Adding color: 3 hours
Level: advanced
Artist: Patrick Martin 
Fans of dry pastels, this tutorial was created just for you! This 9-step still life will allow you to tackle all the issues involved with this technique: choosing and composing your subject, choosing and assembling the colors, applying the right pressure to the pastel stick. The challenge of this exercise: creating an intimate atmosphere! Some advice: place your work upright on an easel, and set up the lighting of your model meticulously, because how you express the light that will bring your subject to life.
 
Material
Colors: Rembrandt dry pastels
Permanent red 372.5; dark permanent red 371.5; gold ocher 231.7 and 231.9; lemon yellow 205.12; dark yellow 202.9; light orange 236.9; yellow ocher 227.5; Prussian blue 508.5; violet blue 548.3; phtalo blue 570.5; dark yellow 202.3; light yellow 201.7; raw sienna 234.5; olive green 620.3; raw umber 408.3; burnt sienna 409.3
Paper: Canson® Mi-Teintes 160 g/m2, felt gray
Accessories: 1 Pierre Noire black pencil 2B/1, 1 white lead, 1 kneaded eraser, 1 fixative spray, 1 rag, 1 board and 4 drawing clips (for attaching the paper).