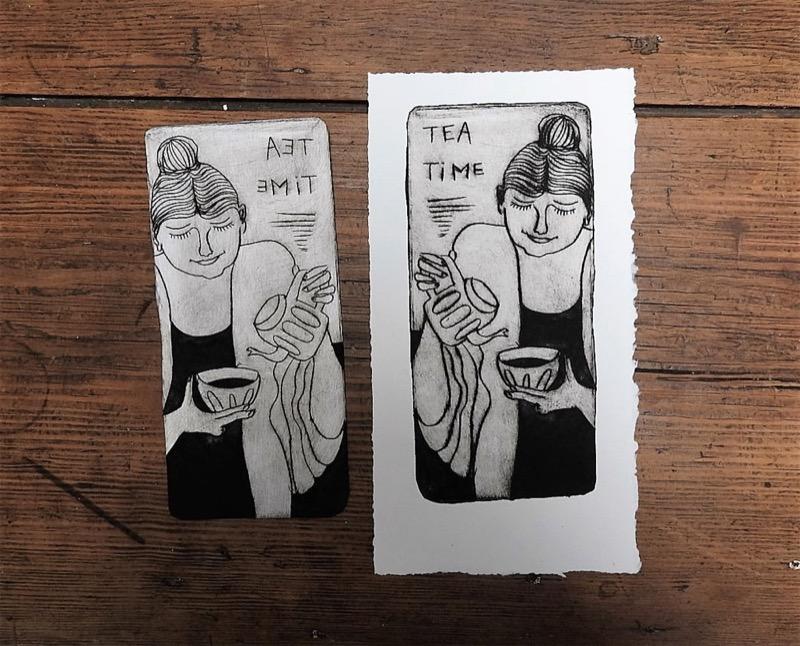 Estimated time: approximately 1 hour and 30 minutes
Level: beginner
Artist: Isabelle Biquet
Engraving on Tetra Pak® has the same requirements as traditional drypoint engraving, except that the material engraved on is recycled, accessible to everyone and practically ready for use, unlike copper or zinc
plates, which require a relatively long preparation phase. This gain in time and money will allow you to work freely and spontaneously, without worrying about "ruining a plate", and Tetra Pak® is perfectly suitable for making limited series of prints.
Material :
Paper : Canson®; Edition 320 gsm extra white and Tracing paper
Pencil: a 3B pencil
Accessories: a "Tetra Pak®" carton, (used for packaging milk, fruit juice, etc.), a preparatory drawing or a photo which will serve as a model, scissors, adhesive paper, a point for drypoint engraving, a pair of disposable gloves, an apron or old clothes, newspaper, a cloth, a tray, ink for intaglio engraving, tarlatan or medical gauze and a press for intaglio printing.