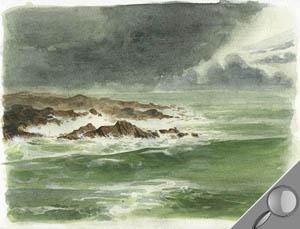 MaterialLevel: advanced / Time : Preparing the paper: 1 and a half hours Time of execution: 2 hours 
Artist: Gally Mathias. 
A seascape under a stormy sky, with its strong contrasts, is an excellent exercise for learning to hone your effects: Transparency, shading, reflections, the interplay of shadow and light, motion, etc. Can be reused with any subject!
Material
Colors: Sienna, red, emerald green, ultramarine blue, cadmium yellow, 1 tube white watercolor or white gouache
Pencils and paintbrushes: 0.5 mm HB mechanical pencil, wash brush, round pointed brush (squirrel: Windsor and Newton N° 6) medium, fine round pointed brush (sable, Isabey N°1)
Accessories: 1 kneaded eraser, paper handkerchiefs, 1 sponge, 1 wood board (larger than the sheet of paper), 1 roll adhesive Kraft paper