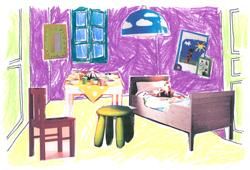 This project will aid discovery of the most famous Dutch artist, Vincent Van Gogh.
Through the work of this artist, children will learn to grasp the technique of perspective, discover work on material and capture emotions and feelings from an image.
Choosing to study Van Gogh invites children to gradually discover perspective as a result of the concept of the vanishing point. It will also help them to create simple form, letting them take account of the environment in an effective way. It's also a way to tap into their feelings and emotions.
Historical period: 19th century
Vincent Van Gogh was a Dutch painter born on 30 March 1853 at Groot-Zundert (the Netherlands) and died on 29 July 1890 at Auvers-sur-Oise (France). A Dutch painter and illustrator, his work is full of naturalism, inspired by impressionism and pointillism, heralding Fauvism and expressionism.
The work of Van Gough comprises more than a thousand canvases and drawings mostly dating from the 1880s.
Today he is considered as one of the greatest artists of all time.